In my analysis, the United States will not be able to support the military mission of Special Frontier Force without recognizing the McMahon Line in Kashmir. On behalf of Special Frontier Force I demand the United States to duly recognize the McMahon Line in Kashmir apart from recognizing it in Arunachal Pradesh to contain China's military expansionism in Southeast Asia. In the past, China grabbed the Aksai Chin area of Kashmir taking the full advantage of the weakness of the US Policy in Southeast Asia.
Rudra Narasimham Rebbapragada
Principal Deputy Assistant Secretary for South and Central Asian Affairs Alice Wells: Discussion on India and the Indo-Pacific
REMARKS
THE ATLANTIC COUNCIL
WASHINGTON, DC
MAY 21, 2020
As delivered on 5/20/20.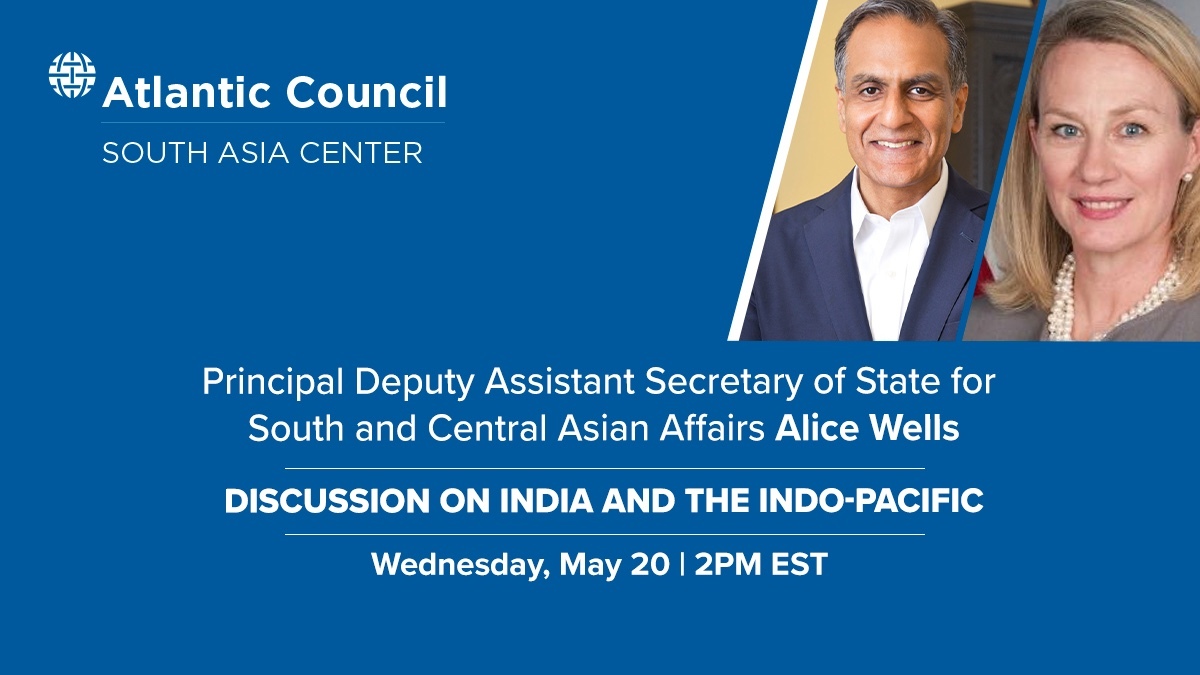 Mr. Kempe: Hello, everyone.  I'm Fred Kempe.  I'm President and CEO of the Atlantic Council and I'm delighted to have you in this virtual room with two of my favorite people, and I'll get to that in a second, but there are not two more people more knowledgeable in their fields or more accomplished in their work as diplomats.
We talk a lot about social distance.  We like to call it Atlantic Council geographic distance because we feel through these meetings we can bring all of you closer together socially and intellectually.
As a reminder, today's meeting, which is a discussion on India and the Indo-Pacific, is public and on the record.
We are fortunate today to be joined by Ambassador Alice Wells, Principal Deputy Assistant Secretary of State for South and Central Asian Affairs.  We're especially grateful to host Ambassador Wells today.  She will be retiring after an enormously distinguished 31 year career serving as a diplomat with the U.S. Department of State this Saturday.
Ambassador Wells assumed her duties as Acting Assistant Secretary for South and Central Asia in June 2017.  I'm delighted to say that the Atlantic Council has had the good fortune of working with her and hosting her several times during this tenure.
Prior to her current post, Ambassador Wells served as the U.S.  Ambassador to the Kingdom of Jordan, one of the most important positions in that region; a Senior Advisor in the Near Eastern Affairs Bureau in Department of State; Special Assistant to the President for Russia and Central Asia; and much more.  During her time in the Foreign Service she served in U.S. embassies in New Delhi, Islamabad, in Riyadh. In short, she knows the world and she knows her stuff.
Alice, please allow me once again to thank you for your distinguished service.
We're also joined by Ambassador Richard Verma, Vice Chair and Partner to the Asia Group and former U.S. Ambassador to India from 2014 to 2017.
Ambassador Verma has a distinguished career also over the past 25 years, serving across the U.S. government as Assistant Secretary of State for Legislative Affairs, Senior National Security Advisor to the Senate Majority Leader, and as Judge Advocate in the U.S. Air Force.
Our two participants, as I said earlier, are two of the most knowledgeable and accomplished individuals working on India and the Indo-Pacific.  I look forward, as we all do on this virtual call, to your conversation.  So Alice, Rich, it's a pleasure to know you and it's going to be a great pleasure to listen to you.
I think Alice, you're going to kick us off, Ambassador Wells will kick us off with some opening remarks, and then we'll ask Rich to moderate the event.
Ambassador Verma: 
Let me turn to another frankly tense issue which is the border standoff.  As you noted, Indian and Chinese forces often coming into contact with each other perhaps more frequently, even in the last week or so additional security challenges on that front.  How much does that worry you?  Can you give us a sense, are there de-escalatory measures that can be taken?  This 2200 mile contested border presents some real security challenges for the Indian side.
Ambassador Wells:  I think for anyone who was under any illusions that Chinese aggression was only rhetorical, I think they need to speak to India where India on a weekly, monthly, but certainly a very regular basis has to experience the pinpricks of Chinese military.  It's a reminder of what's at stake in building a world order and sustaining a world order that respects sovereignty, territorial integrity, as well as respects the rules of international trade that have allowed, again, so many hundreds of millions to be lifted out of poverty.
We in the United States recognize the McMahon Line. 
We've always recognized Arunachal Pradesh as an Indian state.  We certainly urge India and China on the Line of Actual Control to engage diplomatically to resolve any outstanding differences.  But this is, if you look to the South China Sea, there's a method here to Chinese operations and it is that constant aggression, the constant attempt to shift the norms, to shift what is the status quo, that has to be resisted whether it's in the South China Sea where we've done a group sail with India or whether it's in India's own backyard, both on land as well as in the Indian Ocean.