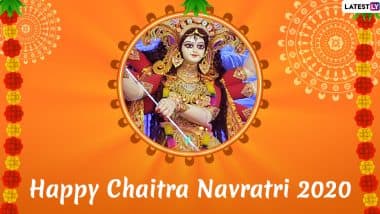 In Physics, Power/Energy/Force is not associated with gender. But, when living things exist as male and female, description of Power/Energy/Force may have gender association. In Indian tradition, 'Deva' means God and 'Devi' means Goddess. Devi in Indian tradition is the personification of God's Supreme Power/Force/ Energy or 'SHAKTI'. To fully account for human existence, man needs two distinct or separate Principles that come together to produce the harmonious singular identity of the man. The issue is not about God's gender. Father Principle is called Originating Principle. Mother Principle is called Source Principle, for Mother is Source of Matter, Energy, and Knowledge to establish Life. Father provides Identity to human form, Mother provides Substance, the structural and functional basis of the human form.
During 2020, Indians celebrate 'DEVI NAVRATRI' or 'CHAITRA NAVRATRI' begins on Wednesday, March 25, and ends on the tenth day, Friday, April 03. The term 'Nav' or 'Nava' means Nine. 'Ratri' means night. This celebration happens in the first lunar month called 'CHAITRA' ( March-April), during Shukla Paksha or the Waxing Phase of Moon following the New Moon Day.
Devi or Shakti is often called 'DURGA' for She is the embodiment of great strength. She is also called BHADRAKALI, JAGADAMBA, ANNAPURNA, SARVA MANGALA, BHAIRAVI, CHANDIKA, LALITA, BHAVANI, AND MOOKAMBIKA. During the 9-Night or Navratri festival, Indians worship nine different forms of Goddess Durga with 1,000 names. She is simply adored as Divine Mother and often addressed as 'MOTHER'("MATA" or "MAA") whatever may be the name or form She assumed on different occasions.
Goddess Shakti has three Supreme Forms called DURGA, SARASVATI, and LAKSHMI. In India, traditions vary from region to region. First 3 – days of Navratri are dedicated to Goddess Durga, following 3-days are dedicated to Goddess Lakshmi and concluding 3-days are dedicated to Goddess Sarasvati or Goddess of Knowledge, Wisdom, and Speech. Monday, March 30, 2020, the Sixth Day or Shashti 'NAVARATRI' is dedicated to Goddess called 'KATYANI'(legendary daughter of a devotee by name 'KATA').
NINE DAYS OF CHAITRA NAVRATRI 2020
Day 1, Wednesday, March 25, 2020 (Pratipada)- Ghatasthapana, Chandra Darshana Shailputri Puja
Day 2, Thursday, March 26, 2020 (Dwitiya)- Sindhara Dooj, Brahmacharini Puja
Day 3, Friday, March 27, 2020 (Tritiya)- Gauri Puja, Saubhagya Teej Chandraghanta Puja
Day 4, Saturday, March 28, 2020 (Chaturthi)- Kushmanda Puja, Vinayaka Chaturthi
Day 5, Sunday, March 29, 2020 (Panchami)- Naag Puja, Lakshmi Panchami Skandamata Puja
Day 6, Monday, March 30, 2020 (Shasthi)- Skanda Sashti, Yamuna Chhath Katyayani Puja
Day 7, Tuesday, March 31, 2020 (Saptami)- Maha Saptami, Kalaratri Puja
Day 8, Wednesday, April 1, 2020 (Ashtami)- Durga Ashtami, Mahagauri Puja Annapurna Ashtami, Sandhi Puja
Day 9, Thursday, April 2, 2020 (Navami)- Rama Navami
Day 10, Friday, April 3, 2020 (Dashami)- Navratri Parana